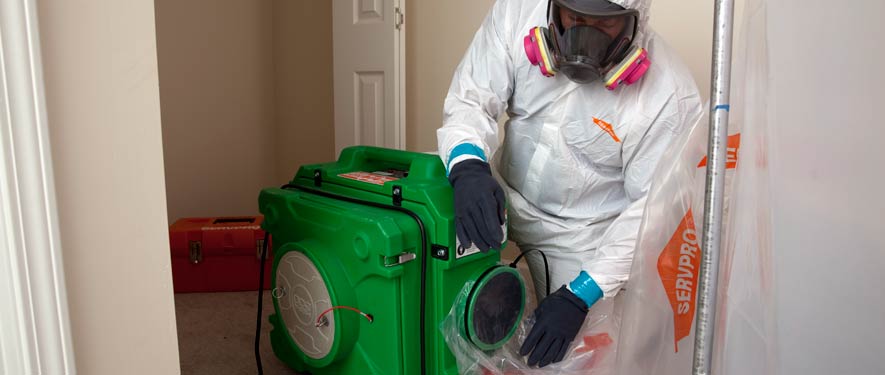 Sewage Cleanup and Restoration
Sewage spills can be caused by a number of issues at your home including broken pipes, blocked plumbing and damaged septic systems, or by intrusion of contaminated flood waters. Sewage contains harmful microorganisms such as bacteria, viruses and parasites. Direct contact with surfaces contaminated by sewage can result in illnesses such as gastroenteritis, infection and other diarrheal concerns.
If you have had such misfortune occur in your home – First – Call SERVPRO of Sussex County! Next take steps to minimize any exposure to people or pets from the sewage. Our team of professionals will arrive quickly and offer a plan of remediation that will ensure the safety of all involved. They will remove the sewage and contaminated soil form under the house. This is the first step in the decontamination process. Any and all surfaces or items which have been in contact with any sewage must be thoroughly cleaned and sanitized. Once the area has been decontaminated; typically a vapor barrier will be applied.
Another unpleasant result of such a spill or leak can of course be the smell. It is crucial to remove all of the sewage and affected soil – this should reduce the smell but there may still be a need for odor remediation. Proper ventilation and air flow in the affected area will also assist with the odor issue and get things back to a normal smell. Our technicians will advise and apply all measure necessary to take the mess and worry out of a home sewage event
Sewage Backup or Toilet Overflow? Call Us Today – (302) 856-9768
There are three major types of contaminated water. SERVPRO of Sussex County will inspect that contaminated water to determine the type of water and then plan the appropriate response to safely restore your home or business.
The three types of contaminated water:
Category 1: "Clean Water"
This is water from a clean source, such as a broken clean water supply line or faucet. If left untreated, category 1 water can quickly degrade into category 2 or 3 water depending upon such factors as time, temperature, and contact with contaminants.
Water from a clean source like a broken water line
If left untreated, can degrade into category 2 or 3
Category 2: "Gray Water"
This water has a significant level of contamination that could cause discomfort or illness if ingested. Sources for category 2 water may include washing machine overflow; toilet overflow with some urine, but no feces; or dishwasher overflow.
May contain bacteria and viruses
Can quickly degrade into category 3 if left untreated
Category 3: "Black Water"
This water is grossly unsanitary and could cause severe illness or death if ingested, and any contact should be avoided. Sources for category 3 water could include flooding from rivers or streams, water from beyond the toilet trap, water from the toilet bowl with feces, or standing water that has begun to support microbial growth.
May contain untreated sewage, harsh chemicals, and microbes
Water from flooding rivers or sewer backup
24 Emergency Service
Sewage backup should be considered an emergency and dealt with as quickly as possible. We are the water damage restoration specialists with specific training and expertise to safely restore your home or business.